Periodontal disease (Periodontitis) damages the gums, ligaments and bone structure that support your teeth. It is caused by bacterial infection associated with plaque. Plaque is that clear sticky substance that builds throughout the day on your teeth, which is removed by regular brushing and flossing. Plaque that isn't cleaned off hardens into tartar.
Tartar that is left on the teeth can cause infection that will accumulate below the gum line. Over time the bacterial infection can result in the gums separating from their grip on your teeth causing 'pockets' between your gum and tooth to develop. These 'pockets' make room for more infection and additional problems to occur including receding and pain in gum tissue, as well as loosened damaged teeth, constant breath issues, and even tooth loss. Tartar must be removed by a dentist through 'scaling'.
Periodontal disease can be treated and like most ailments, the earlier it is detected the better.
The early stage of periodontal disease is Gingivitis. Gingivitis is extremely common and usually defined by mild gum irritation, minor bleeding during regular brushing and flossing, and occasional bad breath caused by the gum infection. Gingivitis is caused by bacteria from plaque under the gum line. Gingivitis is controllable and treatable with regular brushing and routine dental cleaning.
Moderate Periodontitis occurs as the 'pocket' deepens down the root the gum separates further from the tooth, often causing it to be noticeably receded and tender. The bone holding the tooth in place may be up to 1/3 lost. Allowed to advance, bone destruction continues and the tooth will loosen to the point of falling out or requiring extraction.
What to look for:
Gums that bleed during normal (even gentle) brushing and flossing
Gums that are tender, sensitive or even painful to the touch
Gums that are swollen
Gums that appear shiny or bright red (like in many infections)
Gums that are receding
Teeth that are loose in an adult
Teeth that appear unusually long (due to receded gum)
Frequent or continuous bad breath
Overall discomfort in the mouth
At our Midtown Dental Centre, we provide preventative and restorative periodontal care to all patients. Contact us if you are experiencing any periodontal diseases.
Related Periodontal (Gum) Disease Articles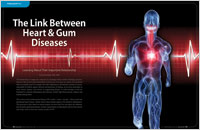 The Link Between Heart & Gum Diseases
Inflammation has emerged as a factor that is involved in the process of Cardiovascular Disease (CVD), which commonly results in heart attacks and strokes. While the precise role inflammation plays in causing chronic CVD remains an area of intense current investigation, much more is now known. The good news is that, based on current research, we know that if we can reduce the inflammation caused by periodontal disease, we can reduce the risk for heart attacks and strokes… Read Article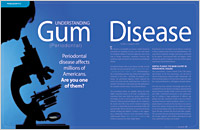 Understanding Gum (Periodontal) Disease
Have your gums ever bled when you brushed or flossed? This most commonly overlooked simple sign may be the start of silent (periodontal) disease leading to tooth loss. Learn what you can do to prevent this problem and keep your teeth for life… Read Article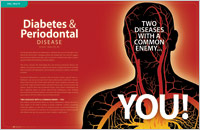 Diabetes & Periodontal Disease
Diabetes and periodontal disease are chronic inflammatory diseases that impact the health of millions of people. What you may not know is that diabetes and periodontal disease can adversely affect each other… Read Article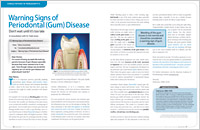 Warning Signs of Periodontal (Gum) Disease
This article provides the warning signs of periodontal (gum) disease. Don't wait until it's too late… Read Article