A missing tooth brings discomfort and risk of teeth shifting into the space your missing tooth once held. Without that tooth the surrounding teeth may move affecting your visible smile as well as causing the gums and neighboring teeth to become far more susceptible to decay and gum disease. One of the solutions we offer patients with missing teeth is called a dental bridge.
A dental bridge is a false tooth that can be used to replace one or more missing teeth. Bridges can do many things, including reducing your risk of gum disease, helping to correct minor bite issues and improving speech. Dental bridges can improve the appearance of your smile. Ask us if a dental bridge is right for you. Your smile will thank you.
St Clair Dental Associates offers same-day ceramic bridges through Digital Dentistry and our in office-lab. We are able to scan, design and create your restoration in one appointment. This allows us to create a precise, esthetically pleasing bridge without multiple visits, temporaries or uncomfortable impressions. Long span bridges may not always be ideal for in office manufacturing, however please contact us to see if a same-day bridge is right for you.

Related Bridgework Articles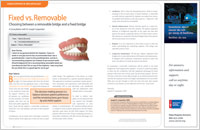 Fixed vs. Removable
For those patients who have lost all their teeth, but have not lost significant bone, a fixed bridge (permanent non-removable teeth) may be the treatment of choice since the new bridge is not needed for facial and lip support. However, not all patients are candidates for this treatment… Read Article


Implants vs. Bridgework
Considerations to help you decide what is right for you. However, a discussion with your dentist is necessary to discuss your specific situation. Please see your dentist to review all the risks, benefits and alternatives to determine which option is best for you… Read Article