Bonding is a versatile treatment and can be used to:
Repair decayed teeth
Fix cracked or chipped teeth
Close gaps between your teeth
Change the shape of your teeth
Improve the look of discoloured teeth
Bonding is a composite resin filling placed on teeth to cover natural flaws. Composites are the materials used for restoring decayed teeth, making cosmetic improvements to teeth (changing tooth colour or reshaping teeth). Bonding has become a common procedure and can usually be completed in one short visit!
Bonding provides the look and feel that you desire. Ask us if bonding can improve your smile.

Related Tooth Bonding Articles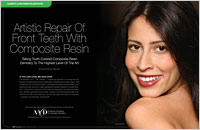 Artistic Repair Of Front Teeth With Composite Resin
Strange as it may seem, it's about creating invisible art – recreating teeth that look totally natural so that no one can tell the difference! It involves a detailed understanding of natural tooth composition and form, choosing the right composite resin to rebuild and restore lost tooth structure, and understanding light and color. Oh, and a dental artist who can put them all together… Read Article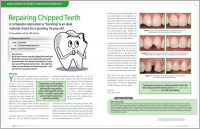 Repairing Chipped Teeth
A composite restoration or "bonding" is an ideal material choice for a growing 16-year-old. Composites can be made in a wide range of tooth colors allowing for near perfect color matching with existing teeth – in artistic hands they can be made to look very natural and lifelike… Read Article