Regular dental visits are essential to maintaining healthy teeth and gums. To achieve excellent oral health, a regular home care regimen must be supplemented with a dental examination at least every six months. Depending on the status of your oral health, we may recommend more frequent visits.
Several months after a cleaning, teeth develop plaque build-up, as well as stains from food, beverages, tobacco, etc. Over time, plaque build-up can harden into tartar (or calculus) formation and create problems.
Checking your teeth for decay is only a small part of the thorough oral exam you receive at St. Clair Dental Associates.
During your visit we will:
Check your gums (gingiva) for inflammation, tooth mobility and pockets
Examine your mouth for indications of possible cancer, diabetes and vitamin deficiencies
Note any irregularities in your facial structure, bite, saliva and temporomandibular joint (TMJ)
Clean your teeth and help you to maintain good oral hygiene
Treat you nicely and take care to ensure you are comfortable
Related Oral Hygiene Articles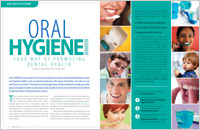 Oral Hygiene – Dental Health for Life
The best tools for maintaining your oral health and minimizing dental problems are a quality toothbrush, toothpaste, a roll of dental floss, approved mouthwash and good diet. Unfortunately, myths and folklore abound on how and what to use to best effect. This article cuts through the confusion with a winning game plan for oral health… Read Article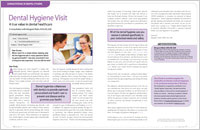 Dental Hygiene Visit
Each dental hygiene visit begins by reviewing your health history to identify issues that may necessitate special precautions during dental hygiene care to ensure your safety and to prevent medical emergencies… Read Article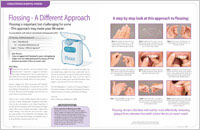 Flossing – A Different Approach
Flossing is important but challenging for some – this approach may make your life easier! Research suggests that while most people will habitually brush their teeth, developing a flossing habit is still a bit more difficult. Flossing however, remains the best method for most effectively removing plaque from between the teeth where the brush won't reach… Read Article