A crown is a covering that sits over the top of a tooth, creating a tooth surface to protect, cover, seal and strengthen a tooth. Crowns are used effectively in many different scenarios, often as an alternative to implants.
Situations where a crown may be the solution include:
Larger fillings that have broken down or have formed decay around them may need a crown to save the tooth.
A cracked tooth may need a crown to hold it together. Be careful not to wait too long as an untreated cracked tooth can become sensitive or eventually break.
Teeth that are very sensitive, either from a lot of 'wear', or from receded gums, sometimes require crowns to seal and protect the teeth from hot and cold sensitivity.
A tooth that has broken may be too weak to hold a filling. A crown will hold the tooth together and prevent it from breaking again. If the fracture is too deep, Root Canal Therapy may be required before the tooth is crowned.
A tooth that has undergone Root Canal Therapy will need a crown to properly seal and protect the tooth.
St. Clair Dental Associates is proud to offer same-day crowns. This is made possible with our digital scanner and in-office laboratory. We are able to scan, design and create your restoration in one appointment. This process eliminates multiple appointments, temporaries and messy impression materials. The ceramic crown is precise, custom fit, metal-free, and matches closely to natural tooth structure. Inquire with one of our team members to see if this digital restoration is right for you.
Related Dental Crown Articles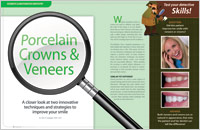 Porcelain Crowns & Veneers
A closer look at two innovative techniques and strategies to improve your smile. In many instances these two restorative techniques can produce nearly identical esthetic results, even though they are structurally different… Read Articl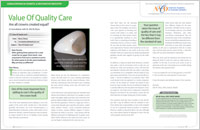 Value Of Quality Care
Are all crowns created equal? One of the most important factors adding to cost is the quality of the crown itself. Another fact is that dentists generally sub-contract out crown manufacturing to a dental laboratory technician, as they rarely make crowns themselves… Read Article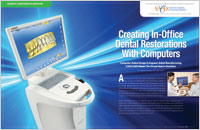 Creating In-Office Dental Restorations With Computers
Once upon a time, dentists – and patients – needed to wait weeks for a dental laboratory to make crowns and other dental restorations. Now, with an exciting digital technology known as Computer-Aided Design/Computer-Aided Manufacturing (CAD/CAM), some dentists are fabricating high-quality restorations themselves right in their own offices – in minutes! Read Article