We do screenings for oral cancer as part of your oral hygiene check-ups and dental exams. The term 'Oral Cancer' includes cancerous growths in the cheeks, lips, mouth, throat, sinus, tongue, or anywhere in the oral cavity. As with most cancers, age is the primary risk factor for oral cancer. Other factors that contribute to increased risk of oral cancers include:
Heavy use of alcohol
Use of tobacco products
Prolonged exposure to the sun's harmful rays (lip cancers)
Family history of cancer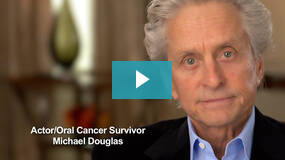 Oral Cancer screenings help us detect cancer in its early stages. If detected early, treatments for oral cancer have a high success rate.
At St. Clair Dental we are pleased to incorporate Vizilite Plus into our oral examinations. This quick and painless test is performed annually during your check-up visit.
Ask us about oral cancer screenings. Your oral health is vitally important.

Related Oral Cancer Articles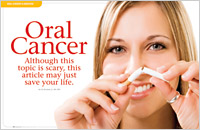 Oral Cancer
This article may just save your life. Learn how to notice any unusual lesions (sores or ulcers) anywhere in your mouth that do not heal within two-three weeks. Early detection is key… Read Article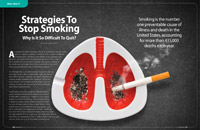 Strategies To Stop Smoking
Cigarette smoking is the number one preventable cause of illness and death. Quitting smoking could prevent a large number of diseases and deaths each year. Many smokers find it difficult to stop, a fact that is confirmed by the staggering rate of relapse. Given the fact that cigarette smoking is a learned behavior that is reinforced over time, it makes sense that to be successful in quitting, you must "unlearn" this behavior. Here are some suggested ways to learn how… Read Article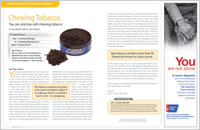 Chewing Tobacco
Chewing tobacco, now known as "spit tobacco," contains nicotine which causes addiction and craving for more and more. Before you know it, you are hooked and have a terrible time giving it up… Read Article