Missing teeth can cause far more than aesthetic displeasure. Missing teeth can allow adjacent teeth to shift and increases opportunity for decay and periodontal disease to set in. Bone loss in the jaw increases the appearance of aging.
One dental solution for missing teeth is dentures. Dentures can be created to fill the place of one missing tooth, several teeth, even all of patient's teeth depending on the nature and reason for their tooth loss.
Dentures are artificial teeth used to fill in spaces created by missing teeth. They can be made from different materials, often hardened porcelain and acrylic resin. Modern dentures look extremely natural.
Dentures help a patient with chewing, normal speech and facial muscle support. Dentures can help you restore your beautiful smile. Ask us if dentures are right for you.

Related Denture Articles
Removable Full Dentures
Complete tooth loss can cause a host of health problems, including malnutrition and bone loss. Though fixed bridgework may hold a higher place of reverence when it comes to replacing an entire set of teeth, removable full dentures can provide an elegant solution that is significantly more affordable… Read Article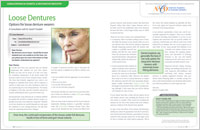 Loose Dentures
Loose dentures are a common problem for people who are full or complete denture wearers, especially if you have worn them for a long time. Whether or not new dentures are needed depends not only upon the condition of your existing dentures, but also how much the supporting tissues have changed… Read Article