Gum Disease and Diabetes
August 22, 2019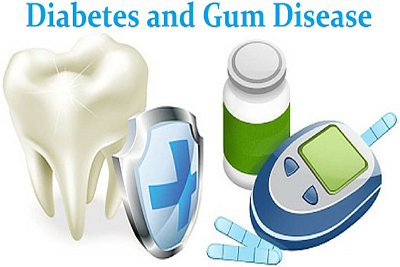 We are told from an early age that daily brushing and flossing is important, but why? Having a daily regimen helps combat oral health issues like gum disease. Infrequent oral hygiene and improper brushing can exacerbate these issues, making it easy for the gum infection to occur.
Gum disease is an infection in the gum, bone, and tissues. Gum disease may eventually result in unstable base for your teeth, which then become mobile and may fall out or have to be removed.
Gum disease, also known as periodontal disease, is a primary cause of tooth loss, and is often linked to diabetes.


Diabetes slows blood circulation, which can contribute to the onset of infections of gum tissues. High saliva sugar levels associated with diabetes contribute to the growth of bacteria, which causes gum disease.
Smoking and poor oral hygiene for people with diabetes also significantly heightens the incidence of gum disease. Due to poor oral hygiene, it becomes easier for bacterial infection to subsist in your mouth. Periodontal disease is caused by the same strain of bacterial infection commonly associated with plaque. Once there is plaque on your teeth or gums, it can potentially harden into tartar, further contributing to tooth decay by attacking below the gum line. Since the bacteria weakens gum tissue, it separates your teeth from your gums, leaving pockets or open spaces that make more room for bacteria and plaque to damage the tooth structure. When left untreated, periodontal disease can cause bone loss, loose teeth, and gradually, tooth loss.
What are the signs of gum disease?
Bleeding gums
Swollen and red gums
Loose teeth
Difficulty in chewing or biting food
How can you prevent gum disease?
Control your sugar levels
Maintain good oral hygiene
Maintain a proper and balanced diet
Avoid smoking
Visit us regularly for cleanings
Early detection of gum disease can lead to proper treatment and eventual reversal of the disease. If not treated, gum disease may lead to serious bone and tooth loss.