Blueberry Banana Breakfast Bars
August 22, 2019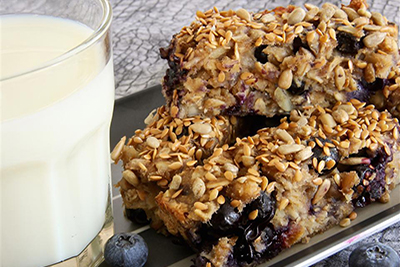 Weekday mornings can get rough. Instead of leaving the house without breakfast, make these healthy and delicious bars beforehand so you can grab them and run out the door without any hassle. This recipe is super flexible so you can substitute the ingredients to your liking.

Cook time: 50 mins
Servings: 9


Ingredients:
1 1/3 cups rolled oats
1/3 cup coarsely chopped dried figs
1/4 cup coarsely chopped almonds
1/4 cup sunflower seeds
1 cup mashed ripe bananas
1/3 cup smooth peanut butter
2 tablespoons honey
2 large egg whites
2/3 cup fresh blueberries
1 tablespoon flax seeds
1 tablespoon sunflower seeds
Directions:
Preheat oven to 350 degrees F (175 degrees C). Line an 8-inch square baking pan with parchment paper, leaving 1 inch of parchment hanging over the sides.
Mix oats, figs, almonds, and 1/4 cup sunflower seeds together in a bowl.
Stir bananas, peanut butter, and honey together in a saucepan over medium-low heat until completely melted and smooth, about 5 minutes. Remove saucepan from heat.
Whisk egg whites together in a bowl until foamy. Mix banana mixture into egg whites and whisk until smooth; add oat mixture and stir until batter well combined. Fold blueberries into batter. Press batter into the prepared pan; top with flax seeds and 1 tablespoon sunflower seeds.
Bake in the preheated oven until golden, about 30 minutes. Cool completely before cutting into bars.
Recipe Courtesy of:
allrecipes.com